A plant-based diet is a diet plan that involves the consumption of food that comes from plants. It is a food pattern that focuses on foods from plant sources. Plant-based foods are being used and understood in multiple ways. Some people consider it similar to the vegan diet and for others, it means a food group having fruits, vegetables, nuts, legumes, and whole grains. Moreover, a plant-based diet focuses on foods from plant sources. Eating in plant-based food trends can be beneficial for your health. Veganism is growing in popularity and experts are documenting it positively. In addition to well-documented environmental and health benefits, going vegan is also ideal to build a good social relationship. Therefore, if you want to know the benefits and different recipes of plant-based food, keep reading the blog.
Surprising Health Benefits:
Plant-based foods usually include a high percentage of foods like peas, lentils, grains, fruits, vegetables, and whole grains. Here are some surprising health advantages of eating several plant foods.
Ideal Weight Management:
Different researches have suggested that people eating a more plant-based diet have less body mass index and lower chances of diabetes as well as obesity. In addition, plant-based foods are high in carbohydrates, fiber, and water content. These foods will keep you full for a long time and it is ideal for weight management. According to a study, plant foods are effective for the treatment of obesity. In this research, 75 people with overweight or obesity were divided into two groups. One group was strict to take a vegan diet and the other to eat meat. After 4 months' time period, a significant weight loss was noticed in the people who ate plant-based foods. Plant foods are also ideal to improve insulin sensitivity. According to another study, almost sixty thousand people have low average BMI by following plant-based food. So if you want to control your weight, there are multiple plant-based food ideas for you.
Treatment of Diabetes:
Plant-based food is helpful to manage and prevent diabetes by reducing insulin resistance and increasing insulin sensitivity. Different studies have shown that people on a plant-based food diet have fewer chances of diabetes than nonvegetarians. The addition of eggs and dairy items with plant foods is also helpful to decrease type 2 diabetes. Moreover, researchers have proven that this food is also ideal to treat diabetes. It is a way to reduce the need for medication, improve metabolic markers and reduce medication needs. Different plant-based food options would lead to improving health. If you are wanting to try a plant-based diet, you should follow it for the long term.
Reduce Heart Diseases:
The journal of the American heart association found that adults eating high plant foods show lower heart diseases. This fact is enough to know how healthy is plant-based food. Moreover, plant-based foods will also reduce the risks of:
High cholesterol
Cancers
high blood pressure
Strokes
Improve Mental Health:
Diet has a major effect on mental health and mood. So a plant-based food is ideal for gut bacteria to produce different hormones in our brain. Gut bacteria is only found in whole plant food, so it is good for our mental health. People with type 3 diabetes or overweight, and brain issues have seen a drastic change in their health.
Lower Urinary Tract Infections Risks:
Urinary tract infections are the most common infection in people with bacteria Escherichia coli. This infection occurs due to E Coli which leads to the urinary tract. It can also be caused by eating contaminated food like meat that leads to this infection. According to a different analysis, people with a plant-based diet have sixteen percent fewer UTI issues than nonvegetarians. So you should consider plant foods if you are suffering from the risk of urinary tract infections.
Control Cholesterol:
One of the best benefits of plant-based foods is they can lower cholesterol levels. Plants are generally cholesterol-free. Due to this reason, eating a diet that contains plant-based food can provide the best and simple solutions to lower cholesterol. Different foods to lower heart diseases and cholesterol rates are nuts, seeds, vegetables, whole grains, and fruits.
Maintain Blood Sugar:
The best thing about plant-based food is it increases fiber in the diet and blood sugar levels. Fiber-rich food is perfect to slow down sugar absorption in the bloodstream. Moreover, it can control hunger throughout the day. So fiber-rich plant-based food will balance the cortisol level in the bloodstream ultimately reducing stress feeling. Many animal-based foods have a significant effect on increasing blood sugar levels. So you should try to avoid it by replacing it with plant-based foods.
Lower Cancer Risks:
Plant-based food is low in fat, and it is the most effective choice to cut cancer risks. So if you want to reduce the risks of cancer, you should look for plant-based food options.
4 Foods you must eat:
Plant-based foods are an ideal source of healthy nutrients and these foods include vitamins, fiber, minerals, and phytonutrients. The people eating more plant-based foods are healthy as compared to non-vegetarians. Here are the four most tasty and versatile foods that you should just give a try.
Mushrooms:
Mushrooms are high in nutrients with antioxidants. The normal processes of the body produce oxidative stress that creates green radicals. These are particles that can damage the cell walls and cause cells to die. These radicals can contribute to aging and trigger inflammation if they are not neutralized. So according to studies, people eating mushrooms had 34% low risks of developing radicals as compared to those who intake fewer mushrooms. Moreover, it also reduces risk by up to 35%. So high mushroom intake is ideal to keep yourself away from different diseases.
Pumpkin:
Pumpkin is generally rich in beta carotene that is also a carotenoid. These carotenoids are converted into vitamin A and used to produce antibodies to fight against infections. It is also necessary to maintain the integrity of cells in the lungs, gut, eyes, and skin. Different analyses have shown a good association between health outcomes and blood concentrations of beta carotene with pumpkin consumption. Moreover, people with a high intake of beta carotene-rich foods such as carrots, pumpkin, sweet potato had fewer risks of having a stroke and heart disease. If you want to give it a try, pumpkin soup is the best thing to eat.
Tomatoes:
Tomatoes are berry fruits that are rich in Lycopene and vitamin C which is a carotenoid. These are pigments that are formed by fruits and are ideal to give vegetables a bright and catchy color. According to research, people who ate tomatoes had lower blood levels of triglycerides as compared to others. Additionally, consuming more tomatoes leads to a decrease in systolic blood pressure. There will be no effect on diastolic pressure. Therefore, you can control both diastolic and systolic blood pressure by eating tomatoes.
Oats:
There are different recipes of plant-based foods that consist of oat. Quick rolled oats and thick rolled oats are ideal to control insulin levels and blood sugar. So it's better to eat highly processed oats because these are helpful to boost health. There are different plant-based food options containing oats that will highly help to lower your blood cholesterol level. In addition, the oats impacts on blood sugar have been tested in different trials that show their effectiveness to control blood pressure.
Recipe to Try:
Breakfast Salad Bowl:
Most people think that salad is only lunch or dinner food. However, keep in mind that it is the best option as breakfast because a bowl of fresh vegetable salad is loaded with a lot of nutrients. When you start your day with a plant-based recipe, it will give your body a lot of fiber, energy, and nutrients. In addition, it will keep you full for the whole day without weighing you down. You can also add poach of the egg as the topping of salad.
Ingredients:
2 slices bread of choice
2 handfuls salad leaves per bowl
2 baby cucumbers, sliced
75g feta cheese, cubed
75g blueberries
2 tbsp. pumpkin seeds
1 tbsp. olive oil
2 tsp. honey
1/2 lemon, juiced
Cooking Guidelines:
Toast the bread and make small pieces.
Assemble the salad in a bowls.
Place two salad leaves in each dish, top with blueberries, sliced cucumber, and feta cheese then sprinkle with pumpkin seeds.
Mix with olive oil, lemon juice, and honey.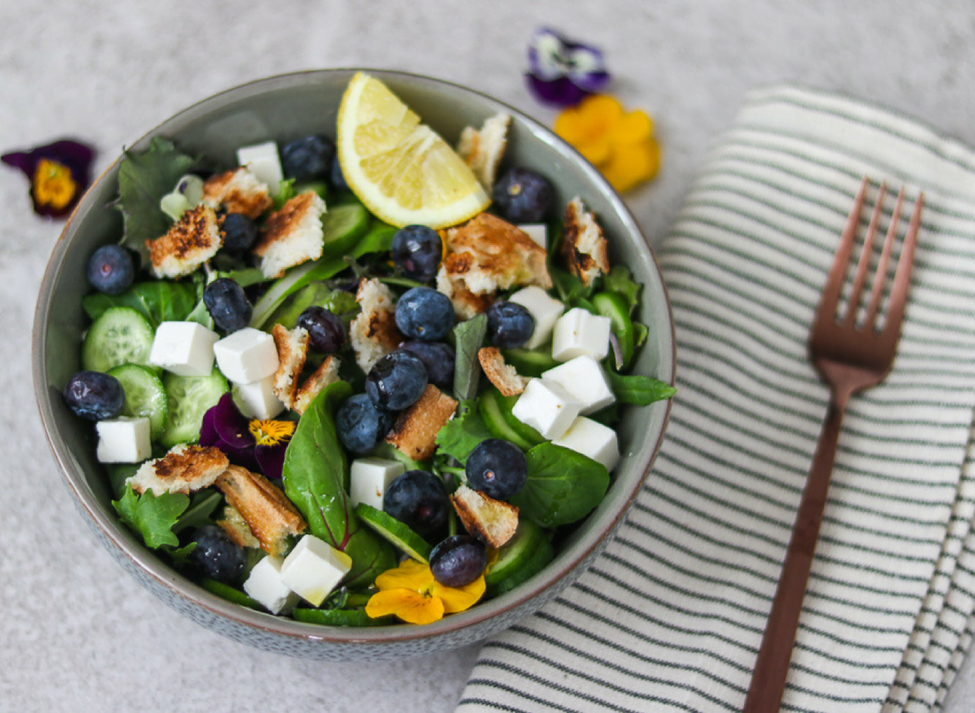 Reasons to Choose Plant Food:
A plant-based product usually contains ingredients derived from plants including vegetables, nuts, legumes, and seeds. Many people are making changes to their foods to eat healthy and environmentally friendly items. If you are thinking of switching to plant-based foods, you should consider different factors in your diet. Here are some reasons that will help you know about what are good plant-based meals.
Perfect Food Choice:
We all are aware of the fact that replacing animal-based items is not an easy task at all because it's a complex thing to do. When you replace your meat intake with plant-based food, you will see a dramatic change in your health condition. It's taken many years to develop plant foods. However, it becomes possible because of the ingredients like oils, flavoring, plant proteins, and binders. So plant-based items are usually healthier and offer the best ingredients to our bodies.
Change the Way of eating:
Plant-based food is the way to change your eating habits. That is the reason we are seeing more global increase in plant-based items. Several alternatives of plant-based eggs have been formed that are helpful to choose from a variety of options. Researchers are usually re-inventing different types of plant-based food to bring style and variation in food. It is the ultimate way to know how healthy is plant-based food.
Ideal to make Green Environment:
One of the best things about plant foods is they are ideal for sustainability and environmental concerns. Eating plant-based foods lowers the impacts of climate change, minimizes agricultural land use, and also saves water. Moreover, these foods are ideal to keep the environment safe and secure. Different companies are making a large amount of revenue through plant-based foods. So we cannot ignore its significance for our health and to grow business.
Beneficial for a Healthy Lifestyle:
Generally, a plant-based food diet is linked with being healthy. However, it might not be possible in all cases because a healthy plant diet contains whole food such as fruits and vegetables. Nutritionists remain concerned about processed meat substitutes that are high in sodium and saturated fats. These ingredients are fillers or preservatives that increase texture and shelf life. These factors are natural and healthy for diet as well as environmentally friendly.
Plant-Based Food may not be Vegan:
The terms plant-based and vegan have been in use for a long time and both terms are generally considered interchangeable. However, following plant-based food ideas does not always mean that you are vegetarian or vegan. It means that you are selecting foods to consume from plants, but you may also be eating fish, eggs, meat, and other animal-based products. Plant-based food options are not always ideal to target vegetarians because it is only a small percentage of people.
Helpful to Prevent Covid19:
Viruses like Covid-19, swine flu, and bovine spongiform all have something common in them. They come from animals described by zoonotic diseases. When we say that viruses come from animals, it means that these diseases come from eating animals. Luckily, many people in the world are aware of eating healthy plant-based food.
The United Nations voiced a concern to stop the next pandemic and the UN laid some things required to improve health governance with food production. Therefore, lowering the demand for animal products is a thing that can be helpful to cope with upcoming pandemics. It's a fact that pandemics are not restricted to certain countries. So including plant-based food in the diet will be helpful to lower the effect of Covid-19. However, strengthening and monitoring is the best part to make effective strategies.
Plants Based Recipes:
If you are a vegetarian, following plant-based food will be beneficial for your health. People with plant-based diets usually have long lives. According to research, almost 65 overweight adults have been analyzed for three months. By the end of the study, people with plant-based food reduce more weight than others. Therefore, eating plant-rich food is the ultimate way to keep yourself healthy and fresh. Many people are confused about how to cook food in variation. There are different recipes of plant-based food that everyone should give a try. Let's discuss some healthy recipes to get started on a plant-based lifestyle.
White Bean Soup and Lemony Kale with Leeks:
Soups are one the best and easiest dishes to add multiple veggies. The lemon-infused soup features sweet leeks, earthy kale, and hearty beans. One serving of soup has 11 grams of protein and fiber with 263 calories. You can also boost the flavor of the soup by adding sliced vegan sausage in it.
Apple Quinoa Power Bowl:
The power bowl recipe is a combination of plant proteins from tofu, apples, and quinoa. In addition, leafy greens are also ideal to balance the macronutrients that will keep you satisfied and full. You can cook quinoa with green vegetables like kale, spinach, and romaine. Moreover, it is an ideal way to learn about what are good plant-based meals.
Savory Turmeric Oat Bowl:
The oat bowl combined with the savoriness of tempeh bacon and earthy flavor turmeric is the best serving for plant-based food. Turmeric provides antioxidant and anti-inflammatory properties according to the research. Moreover, oat bran consists of soluble fiber that is best for soluble fiber to lower cholesterol. It is a great source to get different minerals and vitamins from Swiss chard, spinach, and kale. One cup of kale offers almost 53.3 grams of calcium, 6.93 milligrams of magnesium, and 19.6 milligrams of vitamin C.
Vegan Sloppy Joes:
The vegan sloppy Joe recipe is the best thing to satisfy your cravings because it is a warm and hearty food. You will get nine grams of fiber in a single serving of this dish. You can also add bell pepper, garlic, and sautéed onion to add a little crunch. If you are looking for the best dish rich in a plant-based diet, you should try vegan sloppy Joes.
Mediterranean Couscous Bowls:
The best way to create a flavorful meal is to add an assortment of chopped cucumber, salad greens, and cherry tomatoes. Its one serving will give you 15.5 grams of protein, 8.8 Gran fiver, iron, magnesium, and vitamin C. You can also add whole grains like bulgur wheat, brown rice, or quinoa if you want to increase the taste. In addition, tahini sauce is also ideal to add flavor to it.
Quinoa Tabbouleh Salad:
Do you want to know how to make plant-based foods? The quinoa Tabbouleh salad is one of the quickest and ideal sources for a perfect meal. The recipe is packed with cucumber, hemp hearts, grape tomatoes, red onion, and protein-packed quinoa. Parsley, mint, and lemon offer refreshing and clean flavors. You can also add a can of chickpeas to make your salad heartier.
Rice Skillet and Cajun Tempeh:
It is one of the best Cajun-inspired food that will satisfy your cravings. You can use crunchy bell pepper, nutty tempeh, spice Cajun seasoning, brown rice, and onions to prepare the best meal. Moreover, it is one of the ideal plant-based food ideas to make the perfect and creative dish all in one place.
Chana Masala:
The Chana masala is one of the creative recipes for plant-based food with a healthy combination of foods. The recipe is a blend of onions, chickpeas, tomatoes, chili pepper, cinnamon, ginger, and turmeric. It is ideal to add a spicy and colorful flavor to the dish with brown rice and basmati jasmine.
Pesto Chickpea Smash:
If you are looking for the best way for salad toppings or a plant-based sandwich, you should try the pesto recipe with pine nuts. Pistachios are ideal to increase healthy nutritional profiles, and it is full of flavor. The dish also contains unsaturated fatty acids and antioxidants featuring chickpeas, arugula, and different flavorful ingredients such as garlic, lemon, honey, and balsamic vinegar. The dish is ideal for whole-grain bread serving and as a topping for eggs and salads.
Three beans Healthy Chili:
The three-bean healthy chili is packed with flavors of different kinds of beans such as kidney, black, and pinto. You can also add a variety of spices such as tomatoes, corn, onions, quinoa, oregano, and chili powder. Moreover, you can also add omega 3 fatty acids, protein, and fiber as the best plant-based food options.
FAQs:
Summary:
Eating plant-based foods can have many health advantages and lower the different risks of diseases. If you want to switch to plant-rich food, you should gradually reduce your meat intake. The best thing about eating plant-based food is you will get a lot of nutrients. Plant based foods are ideal and consist of a variety of dietary patterns. In addition, plant-based food is useful to describe a vegan or plant diet. So you should eat healthy if you want to avoid different health issues. Therefore, healthy plant-rich food is beneficial both for the environment and human health. It is the ultimate way to focus on health benefits with a variety of different foods by reducing animal products.
Order our eBook Online:
There are different things that we should consider to enjoy plant-based food. If you want to know about recipes of plant-based food, our dieting eBook is the best solution for you. You will get unlimited recipes to enjoy your food in a better way and you can avail our special offer on code FIRST20. If you are searching for the best plant-based food recipes book, purchase our latest recipe pack and enjoy the real taste of natural food.
Contact us at Nutrigastro:
Are you looking for the best and most affordable service providers with plant-based diet patterns? Nutrigastro is the perfect place for personal chef and catering services. We know the way to create delicious food according to customers' satisfaction. Our services are available 24 hours, and you can get the original taste of food with quality serving. If you are looking for the best plant-based foods, contact us and enjoy the real taste.