Food is a necessary part of our lives, and different processing methods are in use to produce it. The food industry plays a vital role in the global economy to ensure the safety and quality of food. Different companies relate artificial intelligence and food by using multiple techniques to produce less costly food to raise income. Therefore, artificial intelligence (AI) is necessary to explore more economical solutions.
Artificial intelligence is widely used in different fields of life. Moreover, it enables us to automate and optimize the manufacturing industry to bring revolution in food production. With the help of an intelligent system, one can ensure and analyze the optimum conditions such as crop and seed choice to improve the food quality. So artificial intelligence in the food industry plays a vital role in the food storage, processing, and delivery of food items. The use of intelligent machines, robots, and drones will be ideal for saving costs in terms of delivery and packaging. Let's explore how artificial intelligence is useful for food businesses.
Food Market Analysis:
When we talk about the food sector, technology is not the first thing that comes to mind. However, using AI technology in the food industry is better for food production and delivery processes. Knowing what dishes to include in the menu or what goods to be manufacture is the key to enhance revenue. The market and customers' demands are changing with time, and food sustainability artificial intelligence needs time. Therefore, thinking one step ahead of the competition should be your preference. A healthy lifestyle generally relates to food technology, so machine learning and artificial intelligence are the best data collection methods. Moreover, you can also predict customers' preferences in the pre-production stage. The artificial intelligence food services understand the human perceptions of preference and flavor by dividing users into several demographics groups and modeling.
AI in the Food and Beverage Industry for Better Hygiene:
Every food and beverage industry needs to make sure their workers keep things clean because it is an important factor that influences food safety. Moreover, it is also a way to monitor that the cooking crew keeps everything orderly in the restaurant's kitchens. So artificial intelligence food and drink use is the best way to track and detect people and their attire and movement. AI solutions can be used by restaurants, cafes, and tech companies in manufacturing and safety. The embedded camera keeps an eye on workers by recognizing their faces and monitors whether they are wearing hats, masks, or following any other safety law. Therefore, you can say that artificial intelligence is ideal for detecting violations with an accuracy rate of 95%.
Supply Chain Optimization:
Artificial intelligence robots serving food are one of the most efficient ways for supply chain optimization. An algorithm based on an AI network can check and monitor the artificial intelligence food delivery process by tracking every step. It is the ideal way to provide transparency and inventory forecasts to avoid extra costs.
AI in Food Manufacturing:
Artificial intelligence is helpful in food manufacturing, and many companies are using AI-based solutions for better productivity. Some of the best AI uses in food manufacturing are:
Remote Monitoring and Predictive Maintenance:
Manufacturing a lot of goods demands complicated, large, and constructed mechanisms. Artificial intelligence in food packaging is ideal for maintenance by figuring out time and cost with indicators. However, remote monitoring can save up to 50% maintenance time by reducing the price up to 10%. Machine learning and AI also permit the identification of different factors that affect the quality of food manufacturing. Moreover, you will be able to monitor the equipment in real-time to achieve high equipment effectiveness.
Less Waste and More Transparency:
Food manufacturers are concerned with food safety regulations, so they have to appear transparent about the food path in the supply chain. Artificial intelligence in food manufacturing helps to detect every part of the process. Moreover, the technology makes inventory management predictions to track the paths of goods. The solutions like symptom retail artificial intelligence allow you to estimate the demand for pricing, inventory, and transportation to avoid an abundance of wasted goods.
Optical Sorting Solution:
Before the invention of artificial intelligence food packaging, the manufacturer had to hire several people to perform actions linked to food selection. Now, you can use AI-based solutions to recognize which plants should be better instead of manually sorting large amounts of food by shape and size. Vegetables of unusual color will be sorted out by food sustainability artificial intelligence. It lowers the chances of food being discarded by consumers. Food sorters develop better processing capability that increases food safety and quality. You can also achieve these goals by using core sensor techniques and a camera to recognize material based on color, shape, and biological characteristics.
Significance for a Restaurant Business:
Artificial intelligence and food are related to each other in different aspects. There are various applications of AI for restaurants, and some of them are:
Better Customer Experience:
There are different applications of food service that help in orders, predict visitor traffic and inventory needs. Such AI-based solutions and applications collect data to engage more customers through examining their preferences and habits. These are all known as cloud big data solutions to make the process easier, and these applications allow pre-ordering of a table in advance.
AI for Online Restaurant Research:
Cafes, bars, and restaurants depend on their feedback and ratings on the internet. With the advancement in technology, customers can get to know about the existence of restaurants through searches or Google Maps. In all these cases, artificial intelligence food services provide solutions to unit data from different food delivery programs and give users a hint for a restaurant that might appeal to their taste relevant to the location. In addition, other adequate AI agents notify customers about the event and sales in their favorite restaurant by using social media platforms.
Voice Searches:
People these days prefer to use voice search over typing to find anything on Google. So restaurants can utilize these AI-based tools to allow customers in immediate orders with one click. In this way, they can enjoy the best artificial intelligence robot serving food.
Food Selling Apps and Sites:
The best step to run an effective food and beverage business is to make an exclusive online service system. You can provide an online menu to the people who have discovered your existence through the internet. Therefore, the online site will give the best recommendation with smart and convenient AI food systems. Customer segmentation and automated customer service can increase the efficiency and accuracy of artificial intelligence in food packaging, placing orders, and formulating new tasks.
Self-Serving System:
Self-service is a way that enables customers to carefully examine the choice, control the ordering process and check numerous flavors with automated systems. It is believed that artificial intelligence in the food and beverage industry should be available for all restaurants. The terminals and applications for self-service ordering will reduce customers' wait time, improve the quality of experience and make the order more accurate.
Innovations in Robotics:
Some of the best AI-based solutions like robotics have popped up recently. Such innovations include drones and robotic hands to deliver orders that can manage the cooking processes and food manufacturing. However, using these devices for food sustainability artificial intelligence can save restaurants money in the long run. The international chain of convenience stores 7-eleven is using street bots and drones in their delivery service.
Restaurants Revenue Prediction:
Food and service quality are very significant, but the restaurant's sales are also valuable. When a restaurant owner knows what to expect, he can make viable plans. Food insecurity and artificial intelligence are related, and you can find algorithms to get sales predictions. The machine learning techniques are ideal to find the best algorithm, and with the right AI team, you can quickly achieve your targets.
AI in Food Delivery:
Artificial intelligence food delivery is a perfect way to plan efficient delivery and logistics strategies. The delivery agent can get the optimized solution to ensure the best routes for providing constant orders. So the use of AI in food delivery will enhance the data analysis. Moreover, you will be able to perform analysis faster with modern algorithms. AI-based strategies and methodologies for companies will be advantageous to get more sales against competitors.
AI in Food Waste:
The united state department of agriculture states that the estimated food waste is between 30-40 percent of the food supply in the U.S. According to this estimation, this food loses at consumers and retail levels, corresponding to approximately $161 billion worth of food. This waste amount has far-reaching effects on society. According to McKinsey, AI can solve this issue to reduce food waste by unlocking a $127 billion opportunity. Here are some ways that will be helpful for food insecurity and artificial intelligence:
Farmers can use AI-based solutions to get rid of field trials that will save their money.
When you use visual imagery techniques for the food supply chain, food inspection will be easier.
Food tracking with artificial intelligence will enable you to sell food before it becomes waste.
AI in Beverage and Food Industry Statistics:
The food and beverage industry is expected to register a Compound Annual Growth Rate (CAGR) of 65.3% from 2021 to 2024. Many businesses have already transformed their services towards an artificial intelligence-based solution by enabling cutting-edge techniques in their processes. No one can ignore the role of artificial intelligence in the food and beverage industry for the USA because it is the leading region in the world. North America has a high level of AI adoption because it has a high automation potential that can occur at the regional level between 2019-2030. The agriculture department of the United States concluded that 16% of shipment value in the USA comes from food processing plants. So increasing the application of artificial intelligence and food relation, can significantly impact sales.
Cleaning Processing Equipment:
When you are in the food industry, you know that cleaning processing equipment takes a lot of resources and time. Therefore, researchers at the University of Nottingham are developing AI-based systems to reduce cleaning resources and systems by 20-40%. The system uses optical fluorescence imaging and ultrasonic sensing to measure microbial debris and food residue in equipment and then optimize the cleaning process. The team leader of this project explains that their purpose is to prevent contamination by providing a clean in place system to wash equipment without disassembling it. He further concluded that the system would save millions of dollars for the food industry per year.
Impact on the Food Industry:
Everyone is aware of AI's contribution to every field of life. The work strategies have changed after AI, and the latest techniques have made work seamless. The increase in artificial intelligence food delivery is a beneficial step to improve overall processing. Let's discuss some aspects of how artificial intelligence has reshaped the food industry in different ways.
Provide Excellent Packaging:
Food wasting is the concern of the food and beverage industry. Whether a factory owner or a consumer, no one wants to waste food. Companies are using the latest techniques by using artificial intelligence to create environmentally friendly products. By embracing digitizing and robotics, food industry programs can use artificial intelligence in food packaging. Different approaches like micro packaging, edible packaging, and battling bacteria are the things that cause the adoption of AI technology.
The Efficiency of the Internet Things:
The use of artificial intelligence in the food industry is helpful to perform different tasks such as keeping track of food production and increasing companies' capacities. The use of AI also ensures the safety and quality of food and helps to keep an eye on the maintenance of systems. In this way, you will be able to manage things by artificial intelligence robots serving food to increase yields and decrease food waste.
AI-Based Solutions:
Artificial intelligence in food safety is one of the main concerns of customers these days. So here are some essential AI service-based solutions to enhance the company worth in the marketplace.
Improve Food Delivery Service:
Food delivery is a necessary part of the food industry. With a tremendous range of potential, it has become a growing section of the food industry. Artificial intelligence food delivery is a constant supporter of various delivery programs. Therefore, the AI has used food delivery services for marketing efforts. Furthermore, the algorithm of artificial intelligence research affects different customers' choices. It has helped businesses to know the likes and dislikes of consumers to promote targeted suggestions. So AI is valuable to lower the risks of human mistakes in such assignments.
Automate Food Processing:
Food processing includes workers at different steps in packaging and processing factories. So it is mandatory to ensure hygiene during services that make self-regulation beneficial. When people prefer using artificial intelligence robots serving food, they will work more effectively than human hands.
Manage Food Supply Chain:
The supply chain trend has increased in the last few years. The present supply chain has a broader approach than the previously available techniques. Now companies are using artificial intelligence and food about each other to control elements from retail stores to food making in restaurants.
Safe Transit:
The shipment of food is another field where artificial intelligence and food can be interlinked with each other. The food items demand to be shipped and stored in suitable conditions in terms of temperature and humidity. The requirements must be maintained and appropriately checked to ensure the safe delivery of items. Many companies are adopting artificial intelligence to control safe transportation and delivery of things in the best state.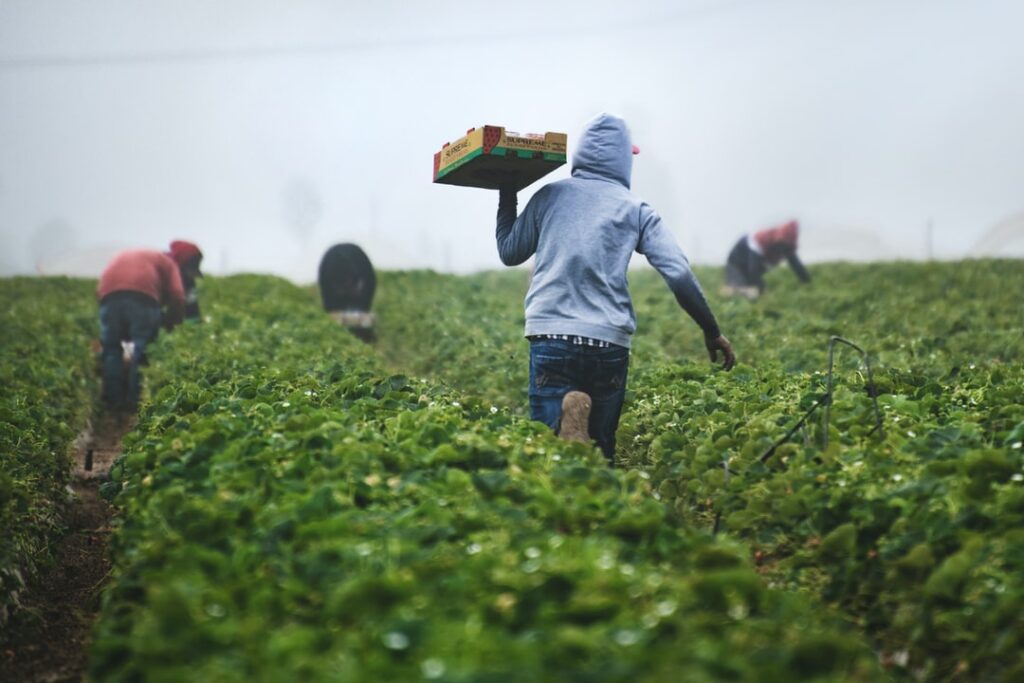 Frequently Asked Questions (FAQs)
Summing it up:
The food industry plays a pivotal role in the global economy. Therefore, to ensure food quality, artificial intelligence-based solutions are much needed. It is necessary to explore more about artificial intelligence and food by using different techniques. Machine learning and artificial intelligence, i.e., restaurant and food manufacturing, are moving the industry to a new level. It is the way to enable less waste of products and fewer human errors by reducing the storage cost and creating an exclusive customer experience. Artificial intelligence robot serving is a subtle thing to introduce for restaurants and big factories. So the use of artificial intelligence-based solutions is obvious to get benefits in the long run.
Contact us at Nutrigastro for Exceptional Services:
Nutrigastro is a well-established company providing personal chef, catering services, home meal deliveries, online orders for pick-up or delivery in San Francisco city limits to valuable clients. We know how to cook a delicious meal by adding different spices to enhance the taste of food. You can get several combinations of food according to your choice. Contact us today and get exceptional chef and catering services according to your liking and dietary preference.